◆History
The origin was one of the Japanese Traditional Art,"Suminagashi(Paper)" in the Heian period(the 9th century,), that means "floating ink".
It is said that "Suminagashi(Paper)" spread to Persia along the Silk Road,and then it was expanded as "Marbled Art(Paper)" with colors.After some centuries,it came back to Japan as "Suminagashi(Paper / Cloth)".
Although it fell into a decline in the Edo period(the 17~19th century),after long research Kyu-ka Yasukawa[the first] devised "Modern Marbled Art" in 1955.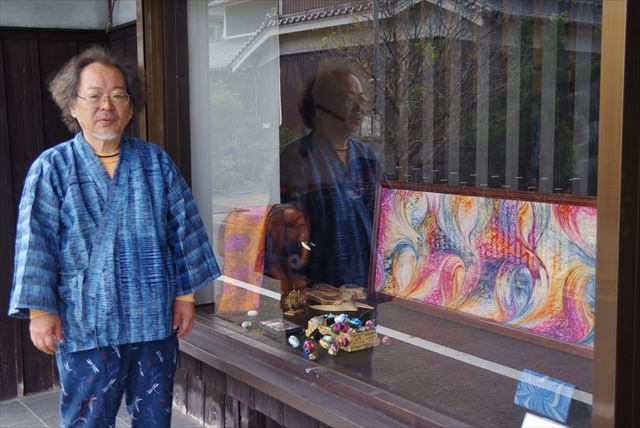 (Kyu-ka Yasukawa[the 2nd])
"Modern Marbled Art"has some special features.
one of a kind

the abstract and natural patterns that are not boring

Japanese Silk
And also Japanese Silk make you pleasant in all seasons and protect you from ultraviolet rays.
---
◆Award(a portion)
---
◆How to craft
floating dyes on the paste,and then drawing pattern with original tools.

putting the large silks on the campus.
(*the picture on the right)

removing the unnecessary paste from it,and then Drying.

a lot of finishing process for dyed cloths

(It takes 2weeks~1month regardless of size)
---
◆

How to wash?
Very easy.Please hand wash with tepid water.And then shade-dry.
When ironing,cover with a damp cloth, and set iron at low temprature.

Please store it in storage,avoding direct sunlight,high humidity and moth-eaten.
For detail,refer to the following Laundary Symbol(ISO).